Dance Macabre
Jump to navigation
Jump to search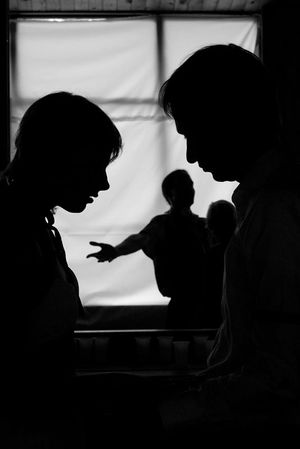 Dance Macabre is a dance larp played multiple times in Czech Republic - first time in 2012, in 2019 there will be another run in UK.
Summary
Dance Macabre is a dance larp inspired by the chapter Danse Macabre in Neil Gaiman`s Grave­yard Book and a Danish Game In Fair Verona. The game is set in current Europe, but the exact time and place does not play an imporant role in the game. The game takes cca three hours and players play their characters only through dancing Tango Argentino. It is a story about love, death and serching for new future. The game is preceded by two days of workshops to learn playing through dancing and to create characters and their story.
Statistics
The production had 40 players in one game of 3 hours.
Before the game, there are two days of workshops of tango dancing and creation of characters and their stories.
There were 7 runs in Czech Republic - 6 of them in Czech language and 1 in English. The game was currently played by cca 250 players.
There is an English run in UK planned for March 2019.
Participation fee in Czech Republic was ca 80 EUR per run, food and hostel style of accommodation included.
The game has minimalist and symbolic scenography.
Techniques
Game design description
Video presentation
Dance Macabre: Last Tones (dance video)
Video documentation
Document About the Game with Players (English subtitles available)
Articles
Dance Macabre Blueprint (in English)
Authors
Mikuláš Bryan
Monika Kadaňková
Pavel Sunder Mejstřík
Pavlína Rennfri Mejstříková
Jana Lorelei Pouchlá
Petr Lex Růžička
Petr Peldrik Urban
External Links