The Wannsee Conference
From Nordic Larp Wiki

This article is lacking important information and/or is too short. You can help Nordic Larp Wiki by expanding it.
Wannseekonferensen
The Wannsee Conference
Full credits

Date

2013-03-09

Country

Sweden

Location

CuLTUREN, Västerås

Duration

2 hours

Number of players per run

15

Number of runs

1

Number of players in total

15

Budget

none

Participation fee

free

Techniques

Several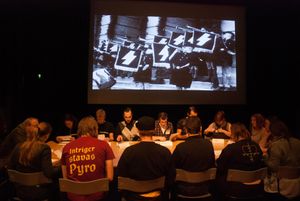 A Chamber Larp about the Wannsee Conference, where the Final solution to the jewish problem was formalized. Played at Prolog 2013, for 15 participants with Pre-written Characters. The larp was divided into two acts (seamless transformation), where the first act was scripted (participants played the meeting around a table, reading from a script), and the second act was the coffee break after the meeting.
Techniques