Knutepunkt 2009
Jump to navigation
Jump to search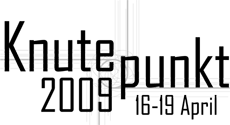 Knutepunkt 2009 was a Knutepunkt-conference held outside Oslo, Norway April 16–19, 2009 (2009-04-16 – 2009-04-19).
Statistics
The conference had 220 participants from 15 countries.
Publication
For the conference, one Knutepunkt-book was published: Larp, the Universe and Everything It was edited by Matthijs Holter, Eirik Fatland and Even Tømte and layouted by Li Xin
Organizers

Håken Lid, Erlend Eidsem Hansen, Eirik Fatland, Even Tømte and Hanne Grasmo contributed throughout the planning process. In addition about 15 volunteers helped out during the event itself.
Financing
Knutepunkt 2009 received funding from